Conference Chairman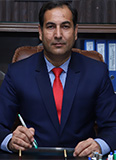 Vice Chancellor/Prof. Dr. M.Suleman Tahir
Khwaja Fareed University of Engineering and Information Technology, Rahim Yar Khan

Professional Profile:

◆ Innovative team leader and motivator with strong management skills, along with more than 23 years of supervisory experience within team-oriented style of management that promotes the team's personal development and productivity.Started three postgraduate academic programs at faculty of engineering.
◆ More than 23 years experience in managing government-sponsored programs that have been cited as professional, innovative, and responsive to community's needs. Started 03 community training projects under umberalla of NAVTTC of worth 28 Millions.
◆ Author of three books approved by HEC and also author of more than 50 national and international research articles published in different impact factor journals.
◆ Also PI of 05 Research project from HEC worth 28 Millions
◆ Supervise more than 40 M.S students and 1 Ph.D student, 03 PhD students registered
◆ As convener works committee University of Gujrat completed 15 construction projects worth 2000 millions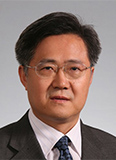 Prof. Zhongliang Liu
College of Environment and Energy Engineering, Beijing University of Technology, China

Professional Profile:
Professor Liu Zhongliang works as the chair professor of power engineering and engineering thermophysics in the Power and Energy Engineering Department of Beijing University of Technology. He is the ex-deputy director of the Chinese Society of Heat Transfer under the Chinese Society of Engineering Thermophysics. He has been committed himself to teaching and research in the field of thermal fluids and energy engineering. He has published more than 400 academic papers on various academic journals and conferences including Int. J. of Heat & Mass Transfer, Int. J. of Refrigeration, J. of Power Sources, Energy, Energy Conversion & Management, Numerical Heat Transfer, Applied Thermal Engineering etc. Now his main research interests are environmental energy technology, enhanced heat transfer theory and technology, numerical methods in heat and fluid flow and renewable energy utilization and energy conservation, process energy saving, analysis and optimization.